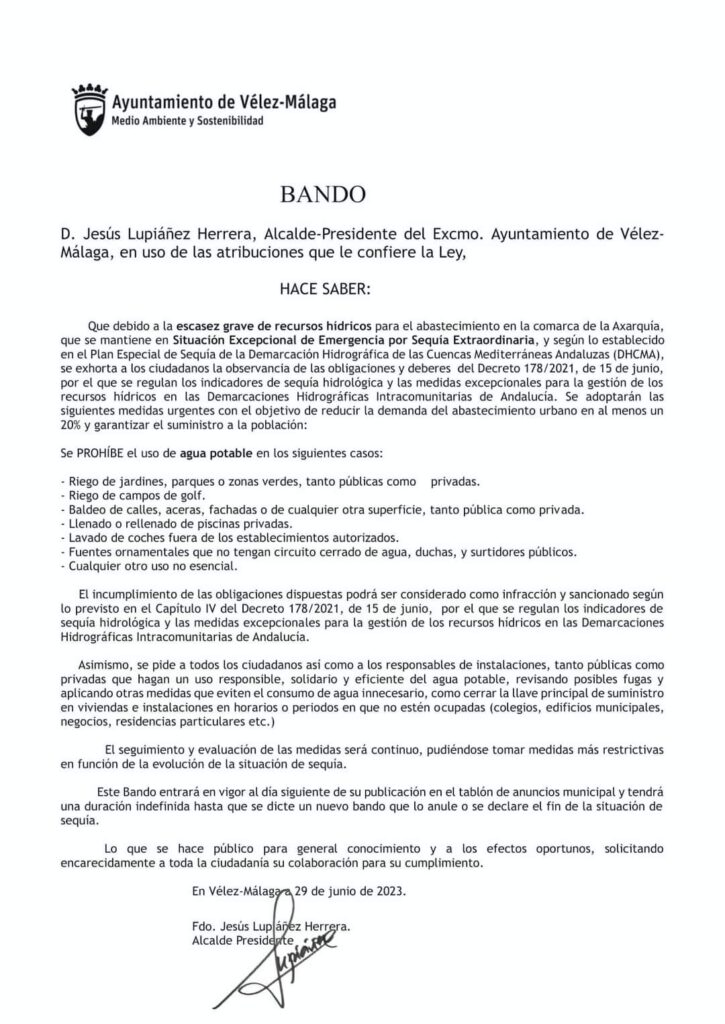 As a consequence of the exceptional drought situation we are suffering, with the reservoir of La Viñuela at less than 10% of capacity and after the reduction in supply that we have been suffering for a few days, it is necessary to adopt measures of awareness and savings to reduce the volume of water used. The Town Hall of Velez-Malaga has issued an edict to reduce the demand of the urban water supply by at least 20% in order to guarantee the supply of water to the population during the summer.
The use of potable water is PROHIBITED in the following cases:
Irrigation of gardens, parks or green areas, both public and private.
Watering of golf courses.
Washing of streets, pavements, façades or any other surface, both public and private.
Filling or refilling private swimming pools.
Washing cars outside authorised establishments.
Ornamental fountains that do not have a closed water circuit, showers and public fountains.
Any other non-essential use.
Likewise, all citizens as well as those responsible for public and private facilities are asked to make a responsible, supportive and efficient use of drinking water, checking for possible leaks and applying other measures to avoid unnecessary water consumption, such as turning off the main water supply tap in homes and facilities at times or during periods when they are not occupied (schools, municipal buildings, businesses, private residences, etc.).